Watercraft Bill of Sale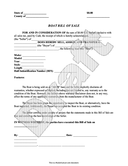 Buying or selling a boat? Before you set sail, you'll need a Boat Bill of Sale to transfer your ownership rights. Get started today to close the deal and make sure the sale is legal.
Use the Boat Bill of Sale document if:
You're the owner of a boat or watercraft and are selling or transferring the vessel to another person.
You plan to buy a boat from an individual rather than a dealer.

Make document: Watercraft Bill of Sale
Available from: RocketLawyer.com
Have a legal question? Ask a Lawyer