Virginia Healthcare Power of Attorney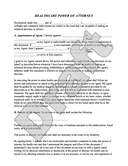 If you have identified someone who you're confident would make the right medical decisions on your behalf—if you were ever unable to yourself—you can use a Power of Attorney to make it official. Just in case you're ever incapacitated, the person you choose is able to determine your future healthcare. Doing this can help keep things on track, and RocketLawyer.com's Virginia Power of Attorney document helps protect you and your family.
Use the Virginia Healthcare Power of Attorney document if:
You have medical issues such as a pending surgery, declining health, or a terminal illness diagnosis.
You're very healthy but want to be ready for anything.


Make document: Virginia Healthcare Power of Attorney
Available from: RocketLawyer.com
Have a legal question? Ask a Lawyer