Virginia Eviction Notice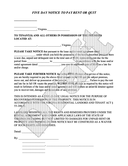 As a landlord, sometimes you have no choice but to evict a tenant. Giving your tenant an Eviction Notice (more formally known as Notice to Quit in Virginia) is the first step in attempting to remove a tenant from a rental property. Virginia law requires a landlord to give a tenant proper notice before the eviction process can begin. Use a Virginia Eviction Notice if you want to begin the process of removing your tenant.
Use the Virginia Eviction Notice document if:
Your tenant has failed to pay the rent.
Your tenant has violated any provision of the lease or rental agreement.
You wish to terminate a periodic tenancy such as month-to-month.
The lease has expired and the tenant has remained on the property.


Make document: Virginia Eviction Notice
Available from: RocketLawyer.com
Have a legal question? Ask a Lawyer