Videography Contract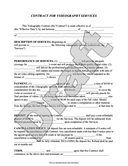 Nothing preserves the memory of your event like video. A videography contract records your agreement with the videographer, establishing the where, when and how much so that everything's clear. And for videographers, this document serves as a legal contract for the wedding, conference or family reunion you've been hired to shoot. Follow RocketLawyer.com's simple interview form and you?ll have a free videography contract in minutes.
Use the Videography Contract document if:
You're hiring a videographer to film an event.
You're a videographer contracting with a new client.


Make document: Videography Contract
Available from: RocketLawyer.com
Have a legal question? Ask a Lawyer