Video Clearance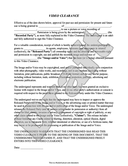 You want to use someone else's video, but you need permission first. That's where a Video Clearance can help. Maybe it's for a commercial or a public service announcement. Maybe it's just for your website. You can't just toss up a video without the okay from the owner. A Video Clearance can help you get the go-ahead.
Use the Video Clearance document if:
You wish to use video or audio footage of people in various settings for a website, publication, or other use.


Make document: Video Clearance
Available from: RocketLawyer.com
Have a legal question? Ask a Lawyer