Vermont Living Will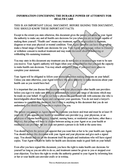 This document allows you to declare your wishes regarding the withholding or withdrawal of life-sustaining procedures under certain circumstances in Vermont. You may also designate someone to make health care decisions for you in the future.
Use the Vermont Living Will document if:
You want to specify your wishes so that it is more likely they will be carried out.
You are facing the possibility of surgery or a hospitalization.
You have declining health.
You have been diagnosed with a terminal condition.


Make document: Vermont Living Will
Available from: RocketLawyer.com
Have a legal question? Ask a Lawyer