Vacation Policy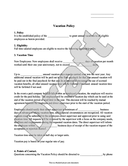 Your employees deserve a little R&R, but as a business, it makes sense to set some limits. Make sure that your Vacation Policy is down on paper. How many days per year do employees get? Does it change if they've been there longer? Paid or unpaid? Spell it out so it's easy for employees (and you) to plan ahead for leave time. A Vacation Policy can help.
Use the Vacation Policy document if:
You are an employer and you would like to provide your employees with a clear guideline on how vacation benefits are accrued and who is eligible.


Make document: Vacation Policy
Available from: RocketLawyer.com
Have a legal question? Ask a Lawyer